Chapter Officers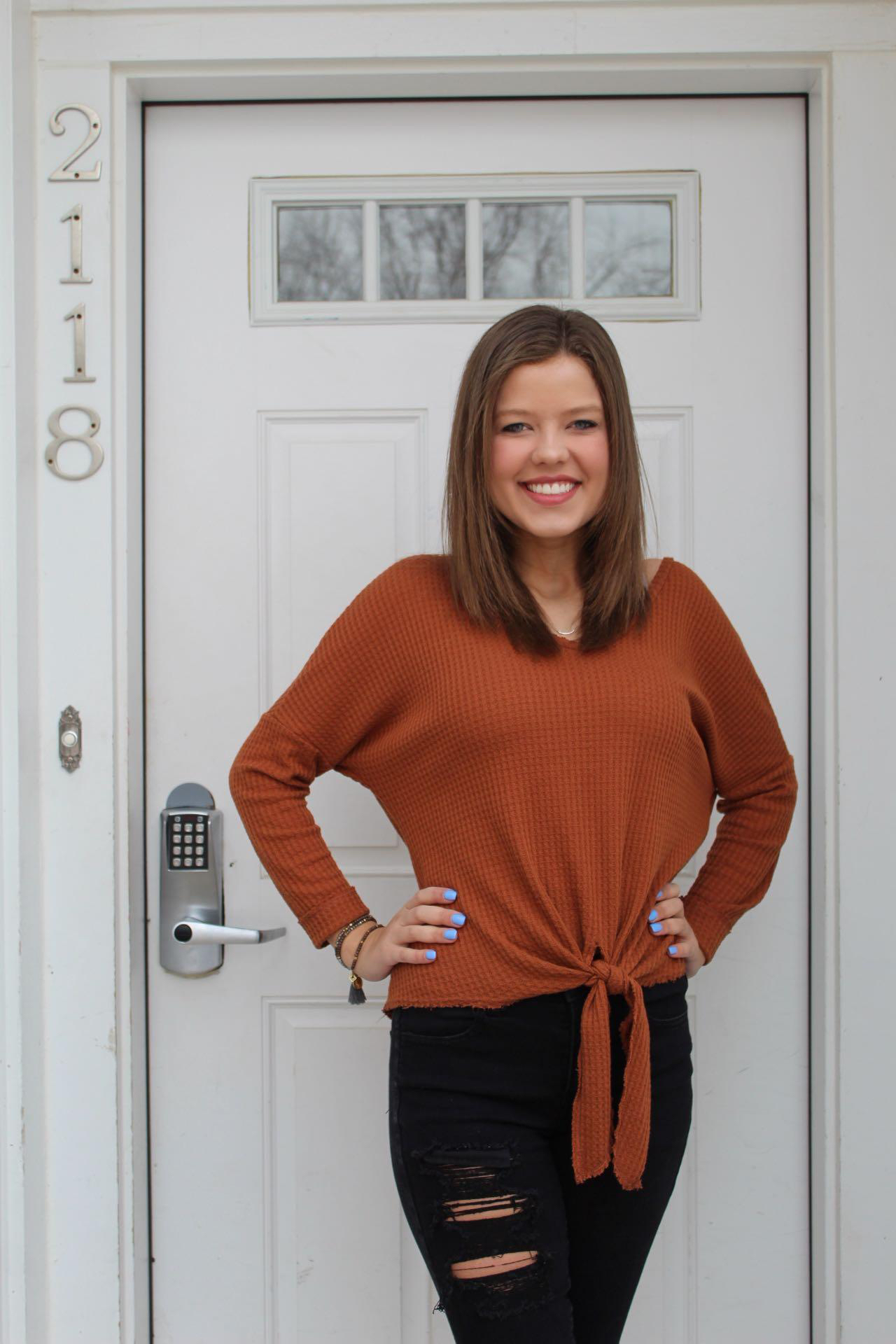 Maddie Rost
President
Maddie is a Supply Chain Management major from Sioux Falls, South Dakota. She's keeping her future career options open but plans on traveling the world as often as she can! Maddie is most looking forward to helping lead her sisters and make Alpha Gamma Delta the best it can be.
Maddie Hoch
VP of Finance
Maddie is a junior studying accounting and she is from North Central, Iowa. She currently is in the process of training for her first half-marathon! One thing that Maddie is looking forward to contributing to Alpha Gamma Delta is to be able to positively affect the chapters finances and to leave a good impression for future women to come.
Maddy Genskow
VP of Administration
Maddy is from Cedar Rapids, Iowa and is studying nutritional science for pre-med. One fun fact about Maddy is that she loves peanut butter, "Jiff natural crunchy peanut butter to be exact". Maddy is excited about helping her sisters by working with the executive team to help facilitate a strong sisterhood among the members.
Brittany Smith
Director of Property
Brittany is a freshman studying elementary education from Greenfield, Iowa. She helps maintain the chapter facility and is looking forward to making it an exciting place for all of the ladies to live.
Emma Engelbert
VP of Marketing
Emma is from Omaha, Nebraska and is a freshman studying statistics. She is looking forward to helping maintain the social media pages and to help market Alpha Gamma Delta in a positive and effective manner.
Melisa Mehmedovic
VP of Chapter Wellness
Melisa is an elementary education and special education major from Waukee, Iowa. She is looking forward to helping our chapter create a greater bond. "From strengthening sisterhood, to creating trust overall, I want the wellness of the chapter to continue to flourish."
Eryn Reesman
VP of New Member Experience
Eryn is a freshman studying linguistics from Omaha, Nebraska. She has a huge love for traveling and has been to nine different countries so far! She is excited to get to know new members individually and encourage their participation and involvement in sisterhood and campus activities. "I will be a resource for new members in order for them to feel at home at Alpha Gamma Delta and to teach them about positive aspects our chapter will bring into their lives"
Mari Biers
VP of Recruitment
Mari is a sophomore from Mendota, Illinois and is majoring in kinesiology. She is a big dog girlie and has a Bernese mountain dog. Mari says, "I am looking forward to leading the women of my chapter through primary recruitment and welcoming new members into our home!" The process is long but is totally worth it to be able to call a new group of girls our sisters.
Jessie Jureczek
VP of Academic Excellence
Jessie is a sophomore who is a civil engineering major from Genoa, Illinois. Jessie is a very animated bubbly person and one thing she enjoys participating in through Alpha Gamma Delta is lip sync! Jessie says that she is most looking forward to "helping the women of Rho Chapter succeed academically. With a widespread diversity of majors, the woman of Alpha Gamma Delta never fail to impress me with their talents, and I am more than excited to be in this position to recognize our scholars!"
Rachel Junck
VP of Campus Relations
Rachel is a sophomore studying chemical engineering and is from Ames, Iowa! She studied abroad in Spain and traveled to 14 countries. She is looking forward to encouraging Alpha Gamma Delta's involvement in campus organizations and leadership roles, as well as meeting more people in the Panhellenic community!
Lily Mindrup
VP of Event Planning
Lily is a senior studying elementary education and has a love for designing amazing events that allows everyone to bond with their sisters. She loves to travel and is most looking forward to planning the date party for this year!
Hannah Matter
VP of Philanthropy
Hannah Matter is a sophomore studying elementary education. She planned an amazing fall philanthropy and changed up the theme! We had a very successful Alpha Gam Nuggest Jam night while raising funds for the Alpha Gamma Delta Foundation to support Feeding America and Meals on Wheels.